TANZ 2019 in Berlin

Die Erfahrung von Verbundenheit, Verwurzelung und Getragen-Sein bringt eine besondere Qualität und Energie in unser Leben.
Genau darum geht es in diesen Tanzreisen.
3. März: Verbundenheit
5. Mai: Wurzeln und Ahnen
20.Oktober: Getragen – Sein
1. Dezember: Ur  –  Vertrauen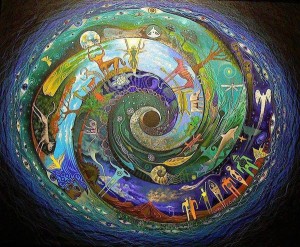 jeweils Sonntag 11 bis 17 Uhr
UND OFFENER SAMSTAG 20 bis 22 Uhr
Ort: K77 Studio   //  Prenzlauer Berg
Jeder Termin ist auch einzeln buchbar
Preise: Alle 4 Abende und Tage zusammen 250 Euro
Einzelne Termine (Samstagabend und Sonntag) 75 Euro
Offener Abend 20 Euro
EARLY BIRD bis jeweils 4 Wochen vorher: 20 % Ermäßigung
SOUL MOTION ist freies Tanzritual!
Eine wunderschöne Fusion
von Bewegungsfreude, Spiritualität und Kreativität erwartet dich!
Soul Motion schenkt uns kraftvolle Formate und Übungen:
Wir werden arbeiten mit:
Pause Presence: A meditative relaxation practice that allows the dancer to slow down, align, and recharge.
Orbit Orientation: The dancer is encouraged to consciously move in all directions with equal attention and without preference.
Echo Inspiration: Dancers are guided to use each other's movements to inform and inspire them.
Eine Hauptform von Soul Motion ist eine sogenannte ODYSSEE zu tanzen. In einer Odyssee tanzen wir durch vier Phasen, die vier verschiedene Beziehungsdimensionen fokusiert:
Dance Intimate, Dancing alone we renew our relationship with the body as a shifting shape in space.
Dance Communion, Inspired by interior impulses, sensations, and images the dancer begins to relate and communicate outwardly.
Dance Community, As dancers begin to move in ever widening circles, they receive and transmit information and inspiration to the larger dance happening all around them.
Dance Infinite, What happens in the dance room is a template for the everyday dance in the living world. We move out from the dance room sensing our environment more clearly, communicating with others with enhanced perception, and relaxing more readily with the challenges and obstacles that may dance before us.